Media Assets
Sonoma Botanical Garden images and media may be used to promote Sonoma Botanical Garden solely for noncommercial, editorial purposes or personal use.
All media remain © Sonoma Botanical Garden. Please credit the photographer as listed in the filename or caption. If no photographer is listed, please credit as "Courtesy of Sonoma Botanical Garden".
Press requests and questions can email pr@sonomabg.org.
---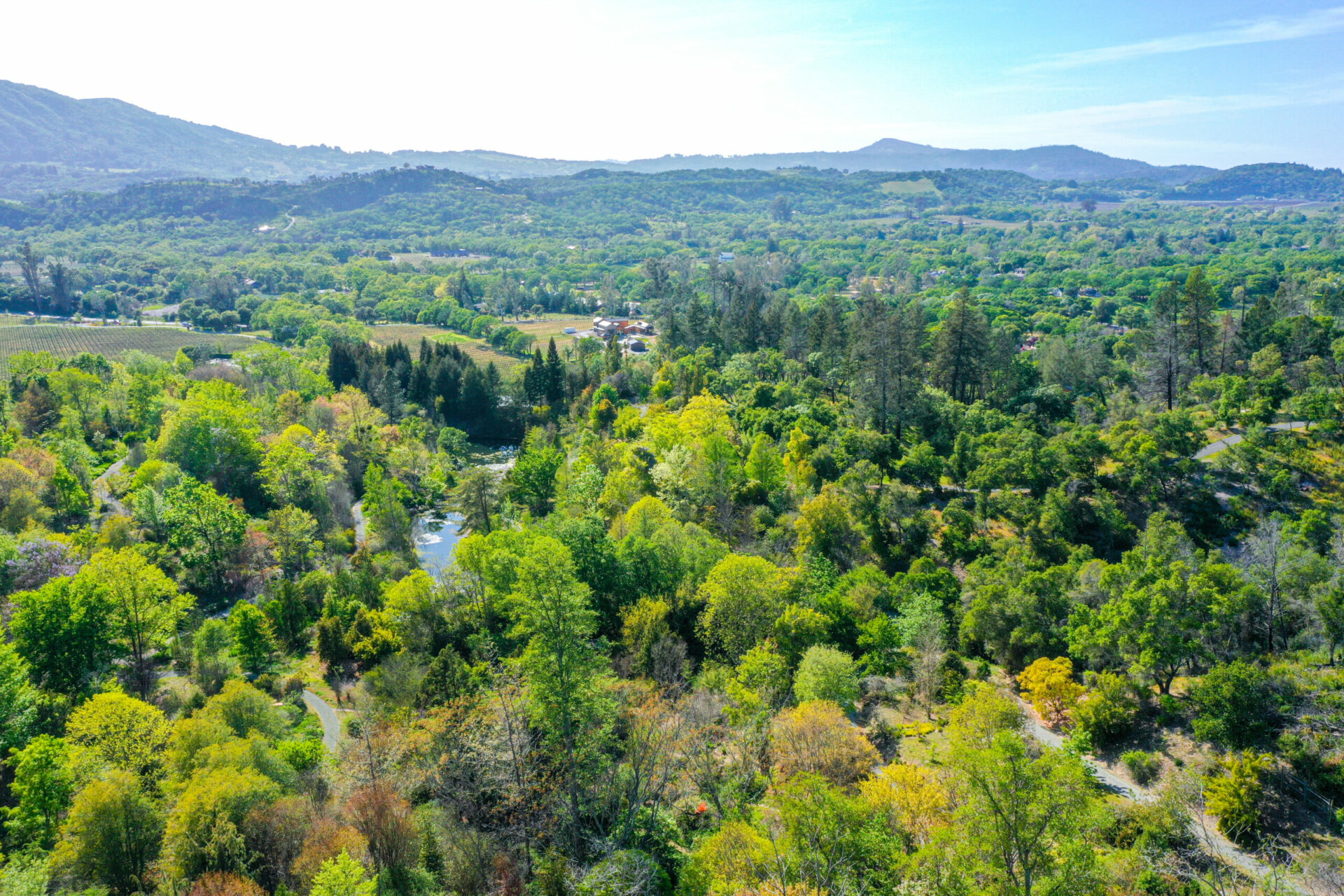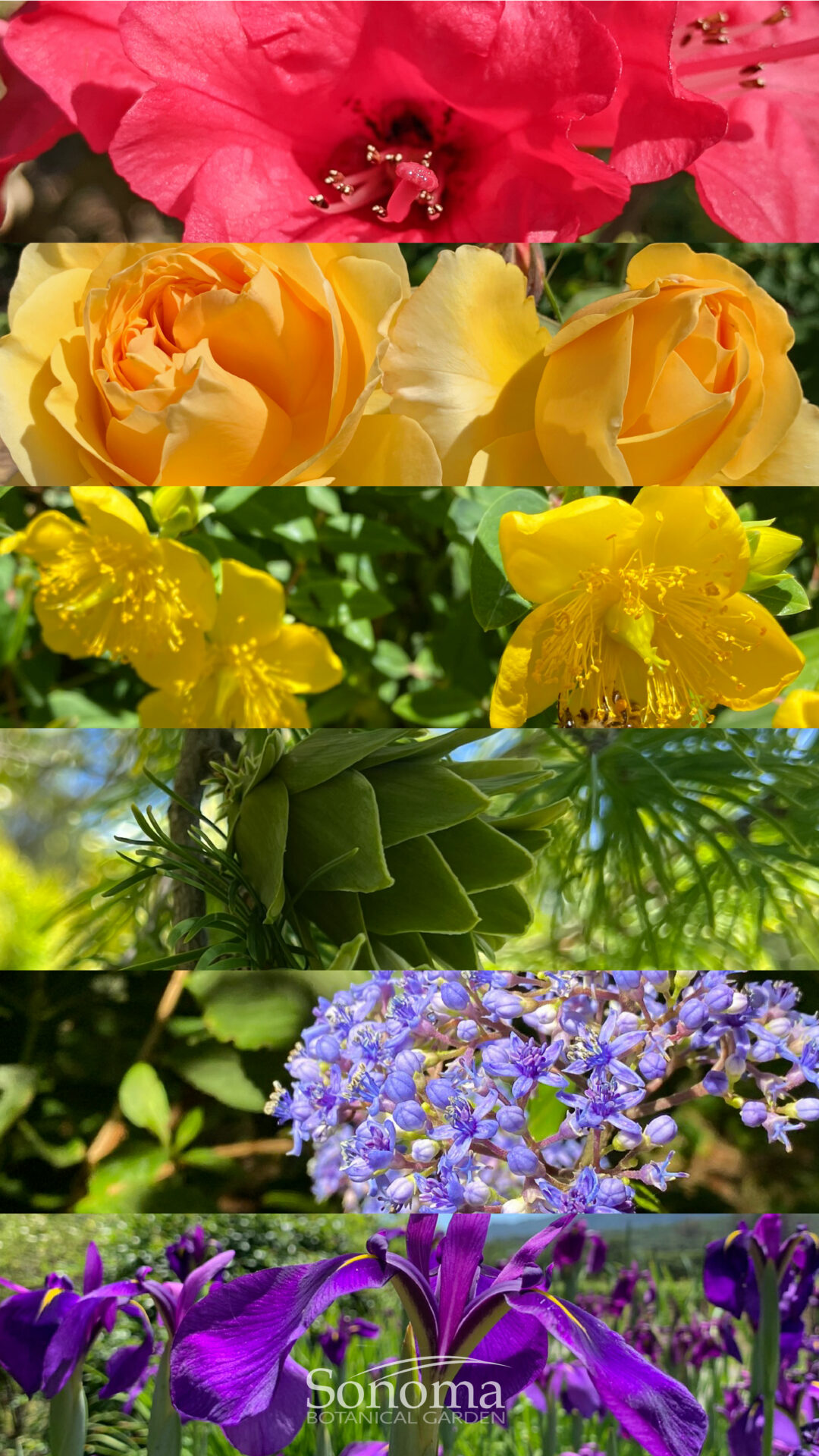 Fall for Color
Sonoma Botanical Garden is one of the most unique places in Sonoma Valley to Fall for Color.
September 23, 2023
Fond of fall foliage? Come delight in the season's pageant of rich colors and tantalizing textures at Sonoma Botanical Garden. With its one-of-a-kind Asian Woodland full of a gorgeous array of various deciduous trees and perennials – many of which are rare and endangered – fall color in the Garden is unlike any other in the North Bay.
Trees like the unusual conifer, Golden Larch (Pseudolarix amabilis), that ignites suddenly in an amber abundance, can be dazzling, but fleeting, so follow the Garden on social media for alerts about must-see color this fall.
Early Fall
The Amur Maple (Acer tataricum subsp. ginnala) is one of the first trees to turn with green summer leaves suddenly speckled with burgundy hues. Not to be outdone, the Chestnut rose (Rosa roxburghii) – known for its intense pink flowers in early summer – develops large, spiky, golden rose hips, and the Garden's Cabernet vineyard drips with juicy purple fruit ready for harvest. Subtle at first, the Ginkgo's (Ginkgo biloba) fan-like leaves begin to shift from green to luminous gold.
Mid-Fall
By November, the many species of maple steep visitors in warm red, orange, yellow, and even purple hues. Their ever-changing ombre of leaves shifts through the season as dried whirly-gig seedpods spiral through the air on the crisp fall breeze. The Japanese Cherry Birch (Betula grossa) sports classic fall color with a solid halo of amber leaves, while the Large-leafed Dogwood (Cornus macrophylla) develops otherworldly pink, branching, spindly infructescence. In the same genus, but with a different way of celebrating fall, the Evergreen Dogwood (Cornus capitata) is decorated with fleshy, pink, dimpled spherical fruit.
Late Fall
Finally, sometimes waiting until December, the Five-Lobed Maple (Acer pentaphyllum) is one of the last to change with its thin palmate leaves flashing crimson and orange. Beautyberry (Callicarpa japonica), aptly named for its bright purple clusters of berries, will make you Fall for Color as its fruits contrast with its large yellowing leaves.
Organic Wine from SBG
La Prenda Vineyards Achieves CCOF Organic Certification for Sonoma Botanical Garden Vineyard.
September 22, 2023
La Prenda Vineyards has been leasing and organically farming Sonoma Botanical Garden's (SBG) 12 acres of Cabernet Sauvignon vineyard since 2020. "We're very pleased to announce that we have now achieved CCOF (California Certified Organic Farmers) registration for the vineyard," said Ned Hill, Founder of La Prenda Wines. This is an important part of supporting SBG's mission of sustainability and conservation through environmentally conscious agricultural practices.
In 2021 La Prenda Vineyards began to use a small amount of the Cabernet Sauvignon grapes from the site to produce a vineyard designated wine that is ready to be released. It will be the first publicly available wine produced from the Garden's vineyard. "Set in the heart of wine country, our collaboration with La Prenda Wines signifies a fusion of winemaking and a commitment to environmental stewardship – a testament to SBG's values as a public garden. Each bottle purchased champions our mission, enabling us to enrich our community through vibrant public programs and sustainable initiatives," said Jeannie Perales, Executive Director of SBG.
The 2021 Botanical Gardens Cabernet Sauvignon opens with dense blackberry fruit lifted with elegant cherry and vanilla aromas. Warm and rich by mouth, a ripe middle with firm well rounded tannins, finishes with notes of sage, dried rose petal and cigar box. The La Prenda 2021 Cabernet Sauvignon, Sonoma Botanical Gardens ($45) is available online here and to taste in the La Prenda Wines Tasting Room.
Jeannie Perales appointed Executive Director of Sonoma Botanical Garden
July 13, 2023
Sonoma Botanical Garden (SBG) is pleased to announce the appointment of Jeannie Perales as Executive Director. Perales will begin in her new role August 7, 2023.
Perales comes to SBG from Sarasota, Florida where she has served in leadership positions at numerous museums and gardens since 2006. For more than 10 years, she served as Vice President of Museum Exhibitions, Learning & Engagement at Marie Selby Botanical Gardens, where she was part of the executive team designing the future of the organization through exhibitions, educational programs, strategic & site planning, fundraising efforts, and increased visibility. She was highly involved in Selby Gardens' 10-year, 3-phase master site plan and $92 million capital campaign. Highlights of her time there include the design of an immersive art/horticultural exhibition program that married the fine arts with the living arts, the development of a traveling exhibition program, and the highly successful re-positioning of Selby Gardens as The Living Museum®. Perales oversaw program managers, curators, contractors, and nearly 800 volunteers to develop and deliver classes, tours, lectures, exhibitions, and programs for all audiences from families to schools to adult learners.
Perales also served as Chief Experience Officer for Bay Park Conservancy in 2021, working with a leadership team to design, build, and activate a new, one-of-a-kind 53-acre waterfront public park on Sarasota Bay. Most recently, Perales has been Associate Director of Development, Campaign Planning and Special Projects at The John and Mable Ringling Museum of Art where, earlier in her career, she served as Associate Curator of Education. She holds undergraduate degrees in Communications and Cultural Anthropology and a master's degree in Educational Psychology from University of Colorado, Denver, as well as a K-6 teaching certificate.
"Jeannie Perales' deep professional experience in museums and public gardens, along with her energy and enthusiasm, will position Sonoma Botanical Garden for a future of growth and excitement," says Jerry Newell, SBG Board Chair. "She brings exceptional experience in visitor-centric public programs, community engagement, fundraising, and organizational change to the Garden, and her extensive knowledge of the intersection between the nonprofit and philanthropic sectors will be optimized in this role for the good of all we serve."
Perales' appointment is the culmination of a national executive search that was initiated by SBG's Board of Directors when former Executive Director, Scot Medbury announced his departure late last year. Chaired by Kimberly Morris, the Executive Search Committee worked with The Potrero Group, an executive recruiting firm focused on the environmental, public lands, and social sectors. Perales will be the Garden's fourth Executive Director since its founding in 1987.
"I am deeply honored to be entrusted by the Board of Trustees to lead Sonoma Botanical Garden into its future," says Perales. "I plan to activate SBG with public programs that serve Sonoma Valley while welcoming residents and visitors to this unique place. By building community partnerships, we will reach new audiences in an enlivened garden that celebrates the beauty of life on the planet. My love of children & families, gardens & nature, and education & outreach have brought me here, and I am excited to join the board, staff, volunteers, and community to grow this very special place."
Museums for All
Sonoma Botanical Garden to offer significantly reduced admission to SNAP EBT card holders.
June 21, 2023
In an ongoing effort to welcome people of all backgrounds, Sonoma Botanical Garden has joined a nationwide initiative called Museums for All, a signature access program of the Institute of Museum and Library Services administered by the Association of Children's Museums. The program helps expand access to museums and also raises public awareness about how museums in the US are reaching their entire communities. More than 850 institutions participate, including art museums, children's museums, science centers, botanical gardens, zoos, history museums, and more.
Starting today, June 21, 2023, individuals receiving food assistance (SNAP) benefits will be able to visit the Garden for the minimal admission price of $3 with the presentation of a SNAP Electronic Benefits Transfer (EBT) card. Children under 12 are always free.
"Sonoma Botanical Garden is dedicated to finding ways to increase diversity, equity, inclusion, and accessibility as an organization," says Deputy Director, Kate Rabuck. "Just as we celebrate the biodiversity of Asia and California flora, we celebrate the diverse backgrounds of the local community. We want to share the Garden with everyone, and the Museums for All program is another step towards breaking down barriers to entry and bringing new voices into the Garden."
The start of participation in this program coincides with the summer solstice and new seasonal stars in the Garden. Summer in Blush celebrates the flowers and features that bring shade, color, and fragrance to the unique Asian Woodland.
California Trail
Opens November 5, 2022
The Garden's fascinating, new California Trail leads visitors through the property's southernmost section, a 22-acre California native oak savanna adjacent to its historic Asian woodland.
The California property was added to the Garden in 1998 and is remarkable for its oak woodland and oak savanna plant communities. Visitors will be invited to enjoy and observe as Garden staff employ ecological-restoration techniques over the next several years to create space for the existing native seedbank to germinate and establish populations throughout the ecosystem. Near structures and in more disturbed areas, rare and unique California native plants will be planted to highlight sustainable, habitat-focused, and ecologically conscious garden practices.
In addition to new plantings and an extension of the overall woodland experience, the trail provides a more accessible route to the heart of the Asian garden. With no more than a 5% grade, the .4 mi trail follows the natural topography of the California section to lead guests up to the Asian garden, thereby expanding access for all.
To mark the new trail's opening, the Garden's Board of Directors ceremonially planted a Catalina Island Mountain Mahogany (Cercocarpus traskiae), arguably the rarest shrub in North America. This rare woody perennial is native to one isolated gully on the south side of Catalina Island, off the coast of southern California. It is estimated that fewer than 15 trees remain in the wild. Since its founding, the Garden has been a sanctuary for rare plants from temperate East Asia and it is delighted to take the first steps on the path to cultivating and displaying some of California's rare and unique biodiversity.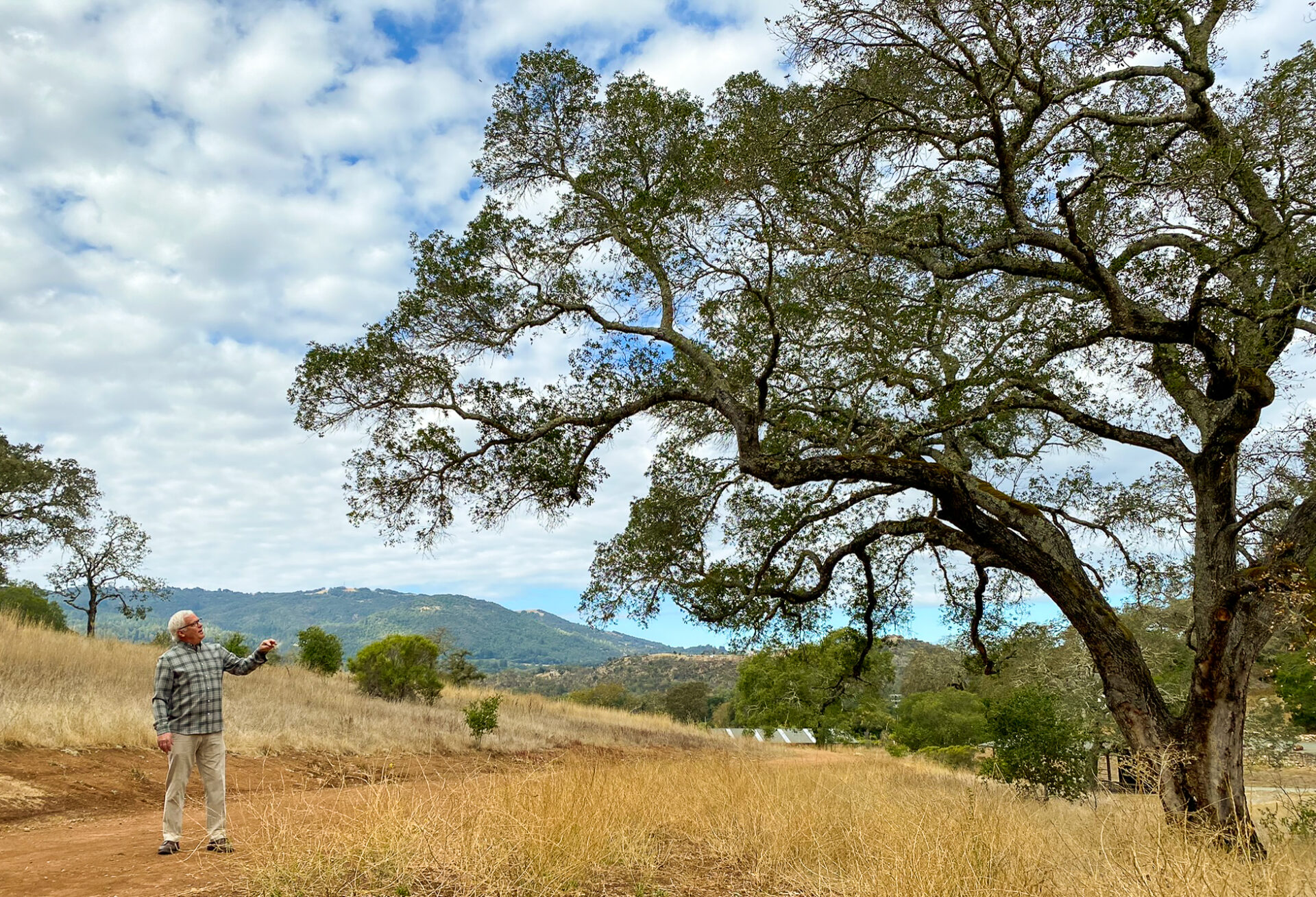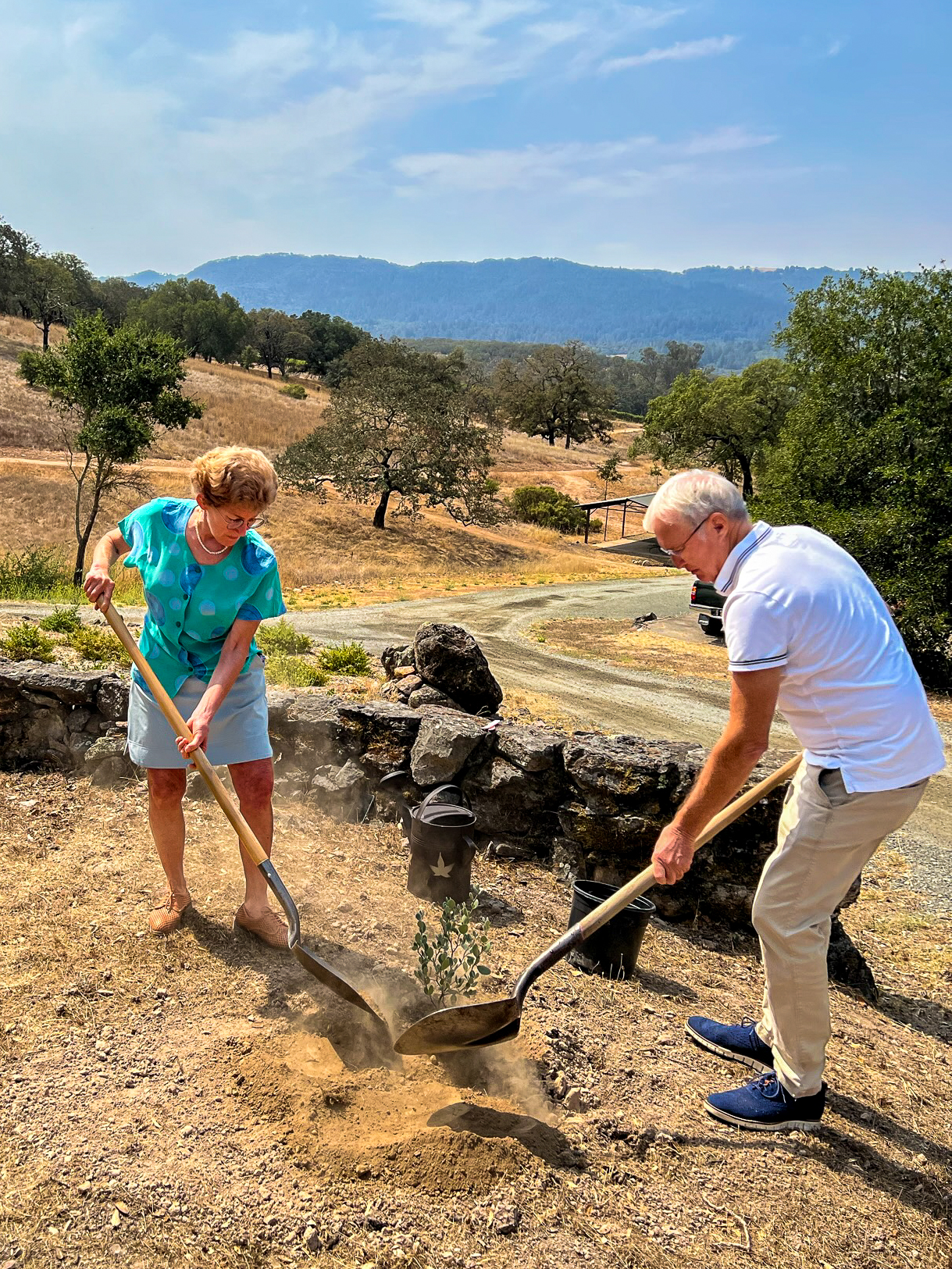 Editorial Use: The primary purpose is to promote Sonoma Botanical Garden, without accruing monetary benefit to the user (i.e. news coverage).
Commercial Use: Promoting Sonoma Botanical Garden is not the primary purpose of the use, or the use will accrue financial benefit to the user.
Personal Use: Media is used for noncommercial display on personal devices, or making image prints or copies for personal use that does not result in financial benefit or any form of remuneration in any way whatsoever.